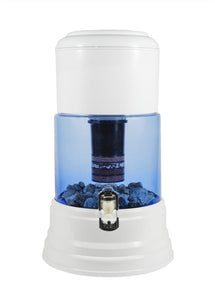 Thewayoftea.be
Aqualine 5 glass
Regular price
€249,00
€0,00
Unit price
per
Tax included.
The Aqualine 5 is a 5-in-1 water system that filters, vitalizes and optionally makes your water pH neutral or alkaline (basic). Crystal clear and optimal drinking water in no time.
The Aqualine systems are available for small and large households, practices and sports centers (available in 5 liters, 12 liters or 18 liters), can be placed anywhere without electricity or a water connection, has an excellent price/quality ratio and is of course free of harmful substances such as BPA and phthalates.
With a capacity of the lower tank (where the filtered water enters) of 5 liters, this is an ideal water filter for households of 1 or 2 people. The capacity is enough to drink water daily and to make coffee and tea. For households of 2 or 3 people or for people who also want to cook with the filtered water, the Aqualine 12/Neos is a better choice. If you have a family with more than 3 people then the Aqualine 18/CM-101/Neos is the best option.
Aqualine 5 - The benefits
Glass

 

The Aqualine's beautiful glass collection tank is handcrafted in a traditional glassworks in South Korea. The blue glass is designed to filter UV light. The glass is clear, looks beautiful and is easy to clean.
Excellent filtration through the 5-in-1 water filtration system

 

Through the ultra-fine ceramic filter, followed by the multi-step filter, the water enters the collection tank, where the Elvan stones do their further work. To then drink vitalized AND optimized water through the magnetic tap. (For further explanation follow this

 

link)
Choice of alkaline (basic) or pH-neutral multi-step filter

 

When ordering, you can choose either the pH neutral or alkaline version. With the alkaline version, you will receive a separate pH ring. This ring raises the pH of the filtered water by 1 to 1.5 pH points to slightly alkaline water. The pH neutral version makes the pH of the filtered water around 7.3.
Mineral stones

 

Mineral stones allow water to be efficiently absorbed by our cell. These Elvan stones have the capacity to add extra oxygen in the water and improve our metabolism.
Convenience

 

Effortlessly turns tap water into (h)honest optimal water, never lugging water bottles around again. Can be placed anywhere (no electricity or water connection required).
Savings

 

Save on the high cost of bottled water and save the environment. Tap water costs €0.005 per liter in Belgium.
Delicious taste

 

Because chlorine, drug residues, pesticides and other contaminants have been effectively removed, unpleasant odors are gone and minerals have been added to the water. Now you know again the taste of natural water.
No electricity required

 

Our systems work on the basis of gravity.
No water waste

 

Every drop you add comes out.
Easy to move

 

Our devices can be moved easily. Garden party? Pick up your device and put it outside. Moving house? No problem for the Aqua-Vitae equipment.
Low maintenance

 

Replace your filters at appropriate times, otherwise maintenance-free.
Aqualine 5 - Technology
In nature, optimal drinking water is created as rainwater slowly percolates through different layers of soil. In this way, the water is simultaneously filtered and enriched with minerals and trace elements needed to go through life as healthily as possible. All of our Aqua Vitae systems work according to the laws of nature and therefore follow this principle.
Nature

 

Aqualine's water technology mimics water in nature to return water to its original form.
Superior in filtration

 

Aqua-Vitae's devices are proven to be capable of high-quality filtration, including for lead, chlorine, chloramine, mercury and volatile organic compounds. Our systems turn tap, rain (barrel), river or ditch water into clear and optimal drinking water, just as nature intended.
Aqualine 5 - Maintenance
The Aqualine 5 is very low maintenance. Both filters are replaced annually and the mineral stones only every 3 years. Except for filter replacement, this 4-in-1 water system requires no maintenance.
Multi-step filter

 

Replace after 1,800 liters or after 1 year.
pH ring

 

Replace after 1,800 liters or after 1 year.
Ceramic filter

 

Replace after 1,800 liters or after 1 year.
Mineral stones

 

Replace after 3 years.
Worried about bacteria forming in the water? No need to be! Because part of the stones are impregnated with silver, there is no bacterial action in the water, so you always have fresh water. Delivery includes: Aqualine 5 Ceramic filter Multi-step filter pH ring (only for the alkaline version) Approx. 550 g Elvan mineral stones approx. 250 g silver impregnated Elvan mineral stones Content: Upper (ABS) storage tank: 2 liters Lower (glass) storage tank: 5 liters Material: ABS - 100% free of BPA and phthalate Borosilicate glass free of lead Country of origin: South Korea Notice: Filters and parts that have been removed from the hermetically sealed packaging and/or filters and parts that have been soaked by water are therefore no longer usable after return and we cannot take them back for hygienic reasons. Before commissioning your appliance you can here find the manual.
---